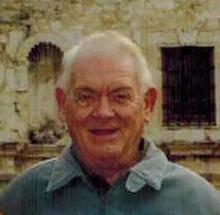 ( Revised March 21, 2014)

Gerry Odell Wood was born November 19, 1943, in Oklahoma City, Oklahoma, the first child of Josephine Myrl and Odell Wood (both deceased). He has two brothers, Michael Joe Wood (Bakersfield, CA) and Bill Lee Wood (Oklahoma City), two uncles on his father's side, Bill Wood and Leroy Wood (both of Oklahoma City), and two remaining aunts on his mother's side, Margarite Sullivan (Sacramento, CA) and Vida Marie Holmberg (Tulsa, OK).

When Gerry was 5 years old, his family moved to Hofheim am Taunus, Germany. His father worked as a safety engineer with the U.S. Air Force and U.S. Army after World War II until 1959. Gerry attended American schools in Wiesbaden, Heidelberg, Frankfurt, and fifth grade in Norman, OK, during an extended visit. In the middle of his junior year at Frankfurt American High School, the family moved back to Oklahoma City where Gerry graduated from Ulysses S. Grant High School in 1961. A major activity in school, continuing into college, was playing alto saxophone in marching and concert bands.

Immediately after high school Gerry entered the University of Oklahoma at Norman (OU), majoring in chemistry and physics. A highlight was when one year the OU Band went to Florida for the Orange Bowl football game and parade. In his junior year, he was baptized into Christ and began a lifelong active membership in Christ's church. At that time he also met his future wife Linda, a fellow-Christian and a journalism major. Both graduated from OU with bachelor's degrees (BS and BA, respectively) in May 1965.

Gerry and Linda Kay Killian were married in Fort Worth, Texas, on August 28, 1965. They moved to Austin, TX, to begin graduate studies at the University of Texas at Austin (UT). Gerry became the first graduate student of a new associate professor, J. M. (Mike) White, in the Chemistry Department. Linda completed an MS in Communications in 1967 and Gerry earned a Ph.D. in Physical Chemistry in 1969 with a dissertation involving photochemistry and gas-phase chemical kinetics.

Upon graduating from UT, Gerry accepted a postdoctoral appointment at the Los Alamos Scientific Laboratory in New Mexico working with John M. Sullivan in the Physical Chemistry Group. During a brief interlude, Gerry was drafted by the Army for service in Vietnam, but was soon honorably discharged for poor eyesight. Postdoctoral studies also involved photochemistry and chemical kinetics.

In early 1972 Gerry began working in the Industrial Hygiene Group at Los Alamos, developing air sampling and analysis methods for toxic chemicals in workplaces. He continued to do research in Industrial Hygiene at Los Alamos for 32 years, becoming an internationally recognized expert in measuring and predicting the performance of air-purifying (gas mask) respirator cartridges for worker protection in industrial and military situations. This included a one-year sabbatical (mid-1986 to mid-87) with the U.S. Army Chemical Defense Laboratory at Edgewood, MD. He was professionally Certified in Industrial Hygiene (CIH) from 1976 until 2004.

Gerry and Linda have two children and three grandchildren. Julie Stiles, wife of Robert D. Stiles, Jr., and mother of William, lives in Austin, TX. Paul Wood, husband of Bethany Dooley Wood and father of Sarah and Eva, lives in Fort Worth, TX.

In mid-2004 Gerry (and Linda, a 12-year technical writer) retired from the Los Alamos National Laboratory, but continued to live in Los Alamos. Gerry still provides his expertise to various government organizations, developing and publishing predictive models and guidelines. They continue to be very active in the Los Alamos Church of Christ, Gerry having served as an elder for more than 20 years and occasionally teaching and preaching.


---